Basic theme this year is Power of Media : it's good and evil.

In present world, social political and economic consciousness of a society is largely dependent on the information transmitted by the media. Newspaper being the most widely used media, plays a pivotal role for both virtue and vice of a society.

Durga, the goddess of power, truth and enlightenment signifies the virtue while Asur, the demon symbolizes the vice. Newspaper will be used in the whole concept as a midtone between these two extremes.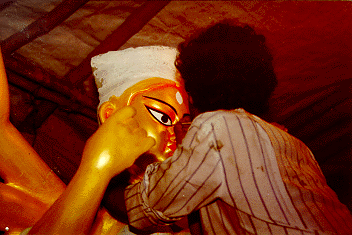 Visit us at the crossing of the Harish Mukherjee Road and Mahim Halder Street, behind Kalighat Fire Station, Kalighat, Calcutta, India.